Professional Accounting Services in Prestons
Whether your company is small or large, it is essential to keep accurate records and to hire professionals for all of the accounting tasks. A professional accountant can save you time and money while keeping you in compliance with business regulations. The accountant can also help improve the record-keeping process of your business, which in turn will result in better data and records. Aside from keeping your books up to date and accurate, an accountant can provide you with professional tax consultation, which is essential for your business.

Why You Should Hire a Professional Accountant?
Hiring a professional accounting service is a smart move. This service can help you stay on top of your bookkeeping, payments, and financial development. It also allows you to focus on running your business, not on the numbers. A good accountant will eliminate the risks of making serious mistakes and keeping your records accurate. Bookkeeping is an essential part of running a business, and it is crucial to keep track of every transaction and expense. A professional accountant will keep track of all your finances, ensuring that you remain profitable and on track.
Avoid the Hassle
Using a professional accounting service will also help you avoid the hassle of keeping track of your business finances. It is important to remember that generating income does not automatically translate to profitability. You need to first pay the bills that fuel your business. You need to keep good records of all your transactions to ensure that you are on track with your accounting. A professional accountant will ensure your company stays on track with all its financial transactions and avoid potential legal issues.
All Financial Tasks
Choosing a professional accountant is an important decision for every business owner. A good accounting service will help you stay on top of your business's payments, financial development, and bookkeeping. It also will eliminate any financial risks and avoid any mistakes that can cost you money. Even if you have a small business, bookkeeping is an important part of daily expenses. It can help you keep track of your business's finances and keep them in order.
Benefits of Hiring Professional Accountant in Prestons
Develop a roadmap for your business
The benefits of hiring a professional accountant are many. They can help you understand your numbers and develop a roadmap for your business. They can offer you practical advice, which will help you make the right decisions for your business. A professional accountant will also help you identify any areas in your business where you need improvement. They can help you with your finances by analyzing past data to determine which areas of your company are weak and need improvements. A good accounting service will be able to give you a valuable perspective on your operations.
Hiring a Good Accounting Firm is a Great Investment
Professional accounting service is a great investment. You'll get expert assistance that will increase your profitability and increase your company's bottom line. With a professional accounting team, you won't have to worry about hiring an accountant, and you'll be able to focus on your business. A business that doesn't have time to invest in accounting services will ultimately suffer if it doesn't have a professional accountant. Having a reliable accountant on your team will help you stay on track and grow.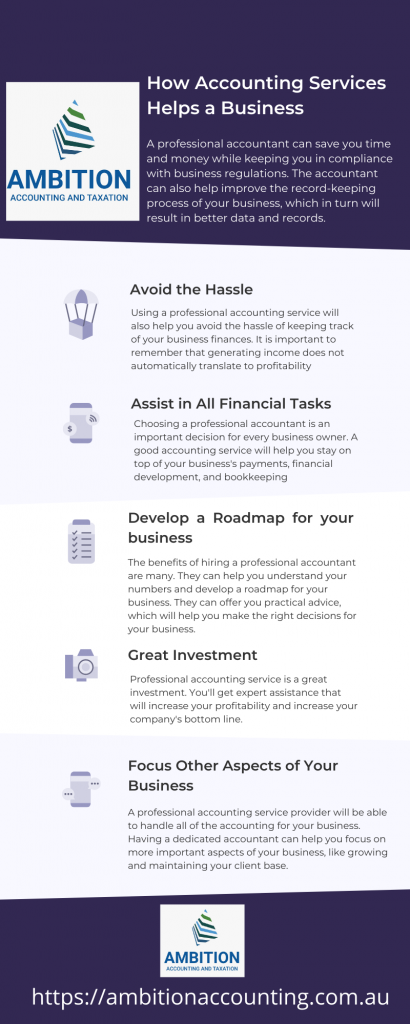 You Can Focus Other Aspects of Your Business
A professional accounting service provider will be able to handle all of the accounting for your business. Having a dedicated accountant can help you focus on more important aspects of your business, like growing and maintaining your client base. They can also help you manage your accounts, and they can even help you if your business is small. Whether your business is big or small, it is beneficial to hire professional accounting services. You will receive accurate, reliable, and dependable accounting.
Save Money and Streamline Your Finances
Hiring a professional accountant is an excellent way to save money and streamline your finances. Your business's finances are important to achieving success in all aspects of life. They can make or break your business. And they can help you with financial transactions, loan approvals, and buyouts. These services can also help you to grow your business. If you have a small business, you can outsource the work to a professional accounting firm.
Conclusion
Small businesses can't afford to maintain their own in-house accounting departments. A professional accounting service can handle the accounting tasks, allowing you to focus on more important aspects of your business. A small business will benefit from the professionalism of a professional accountant. This service will ensure that you have an accurate and up-to-date accounting system. When you hire a professional accountant, you will be sure to have an advantage in the long run.